The Perfect Transportation When Visiting Cancun, Mexico
I do a lot of traveling, both for work and pleasure, and that means that I am always looking for transportation once I reach my destination.  While it would be easy to rent a car for the duration of my stay, there are times when I do not want to be driving around in areas that I am not familiar with.
One of my recent trips was to Cancun, Mexico and I knew that I would not feel comfortable driving myself anywhere in that city.  Therefore, I began my research of what options were available for transport to my hotel.  I quickly learned that taxis would not be available at the airport, so I would definitely need to find a way to get to my hotel, before I arrived in Cancun.
Thankfully, it did not take me long to discover Cancun Airport Transportation.  They offer shuttle service, taxi service, limousine service, and even VIP private services at very reasonable prices.  I chose the shuttle service for my needs, because I didn't think the limousine services were necessary for just me.
It was quite easy to book my shuttle with their reservation system online and I loved how they had no fees if my flight ended up being changed at the last minute.  That was a crucial and welcomed point for me, because it always seems like my flight times are changing or I missed my connecting flight.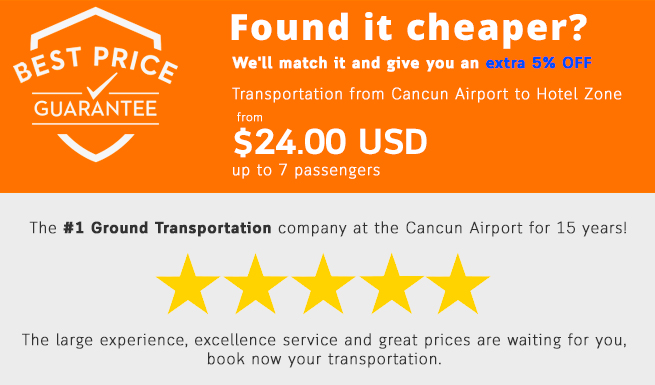 Once my shuttle service was confirmed, I went about my days as normal until it was time for me to catch my flight.  I was a little nervous about whether my shuttle would be there when I arrived at the airport, but after I landed and claimed my luggage, I was met by my driver.
It was so nice to not have to wander around looking for the proper shuttle bus, because my driver took me right to the one that we were using.  I did have to wait for a little bit before we left for my hotel, because the shuttle only leaves once an hour.  However, the time flew by as I met the others who were taking the shuttle with me.  I was able to learn a lot from talking to them and our driver, and even found out about a couple new places that I didn't know about.
As soon as the shuttle left, it seemed like minutes before I was being dropped off at my hotel.  I had successfully managed to get there without any issues, thanks to Cancun Airport Transportation, and I was actually looking forward to using them for my trip back to the airport when it was time for me to leave.  If only they could be in other locations around the world, so I would never need to worry about transportation ever again!